Small classifier
Laboratory use
HPC-ZERO
HIPREC classifier HPC-ZERO is a device suitable for laboratory use and small lot production.
The classifier body and incidental equipment are stored in one unit, and they can be used only by supplying a power source and compressed air.
The classifier can also be easily moved with its casters.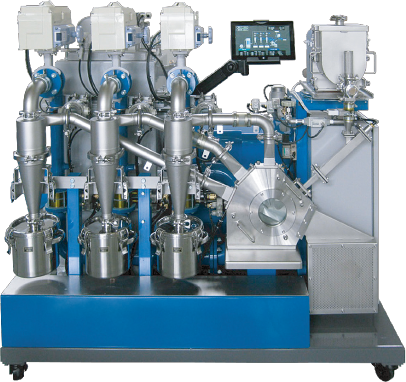 Features
●

Each operation can be set on the touch panel.

Number of rotations of raw material supply feeder
Flap position
Each air volume for suction

●

Easy cleaning and maintenance

●

The side plate automatically opens and closes.

●

Built-in equipment from supply device to
recovery device

●

Line up also includes wear resistant products.

●

For the powder recovery device, a cyclone can also be
replaced with a bag filter.

●

Classification size: 3μm – 200μm

●

Capacity: 1 – 10 kg/h

●

Air volume: 1 – 3 m³/min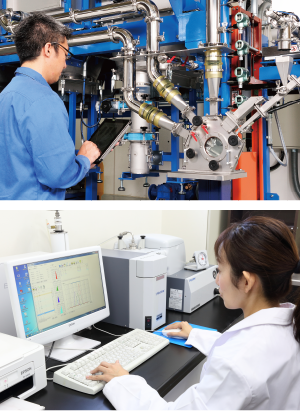 Classification tests can be conducted at our test center. Please contact us.
High Precision Coanda Classifier Test Plant, "POWDER-LABO"
We keep "POWDER-LABO" test plant exclusively for High Precision Coanda Classifier.
Test Equipment
★HPC-ZERO Classifier …… 2 units
Configuration
upply device, HPC- ZERO classifier, Cyclone (3 units),
Bag filter (1 unit), Blower (1 unit), Control panel (1 unit),
Computer for operations (1 unit)
Control
Edge width (F/M): Automatic adjustment,
Air volume: Automatic adjustment and control
Incidental equipment

Product recovery chamber (F/M/C): 3 units
PC integrated system (automatic collection of operation data)




Tablet PC for control

★Particle Size Distribution Measuring Instruments
Microtrac (laser type)…………………………… 1 unit
Coulter counter (electric resistance type)……… 1 unit